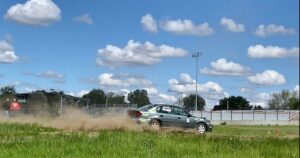 It was a perfect day for RallyCross yesterday! Lower attendance allowed us to try a different event format, where each racer got to take two laps around the course per run. This resulted in runs that were over 200 seconds and all racers got a minimum of 20 minutes of time on course!! We paired this run format with hot swapping course workers, so we were still able to finish before 3 pm.
We still had some very close battles despite the very high cumulative times. In Modified RWD, Chet Prust edged out Aaron Booms by only 0.946 seconds even with a cumulative run time just over 21 minutes and 45 seconds! There was also a tight battle in Stock AWD, with Greg Little passing up Jay Kurth on the last run of the day to take first by less than four seconds.
Make your plans now to join us at our next RallyCross on June 12th at the Oskaloosa Fairgrounds to get in on the fun!