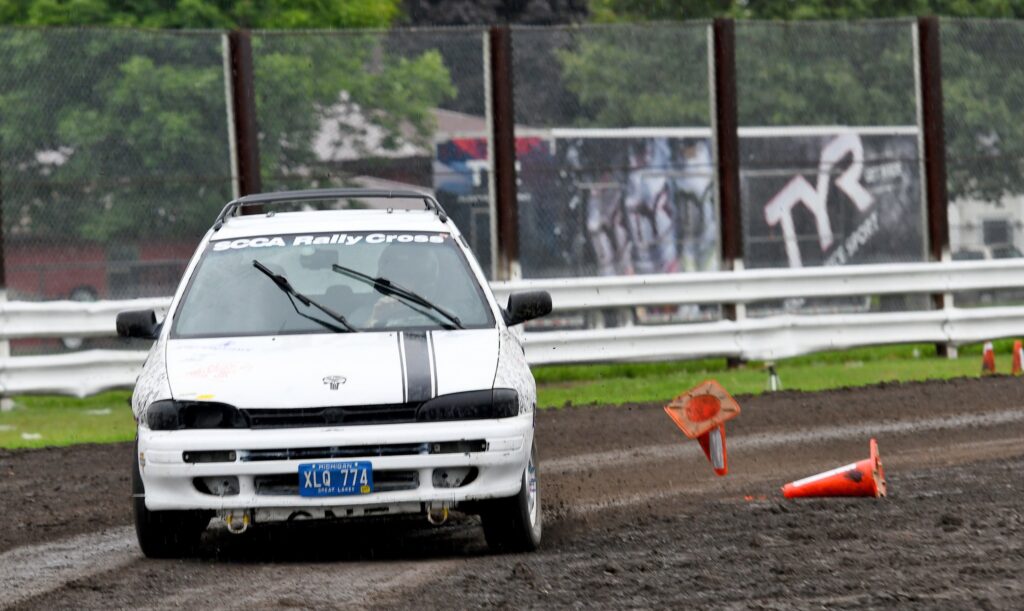 What do you get when you take a clay dirt track and add rain? A surface so slick you can barely walk on it, let alone race cars on! 23 racers came out to the Southern Iowa Speedway this past Sunday to put their rallycross skills to the test. Mother Nature really upped the difficulty level with some unexpected rain.
With the forecast calling for dry weather and the track being in good shape, yours truly had designed a highly technical course on Saturday afternoon. The skies and radar on Sunday morning indicated that the dry conditions might not be the case for long. Shortly after getting racing under way, it began to sprinkle and then actually rain. The technical course became a painful course, as the lack of grip from the mud required very cautious and slow driving. Laps times were INCREASING by 10-20 seconds a lap and many cones were being smashed flat. After only three runs by the first heat drivers, we were forced to pause for safety reasons.
The radar started looking promising about 30 minutes later and the rain soon stopped. After another hour or so, conditions had dried up enough for racing to resume. The first few laps were rather slow as grip was highly inconsistent and even non-existent on portions of the track, but the wind and some sun soon helped make for a fast course. By the end of the day, many racers were putting down laps that were over a minute faster than their wet laps.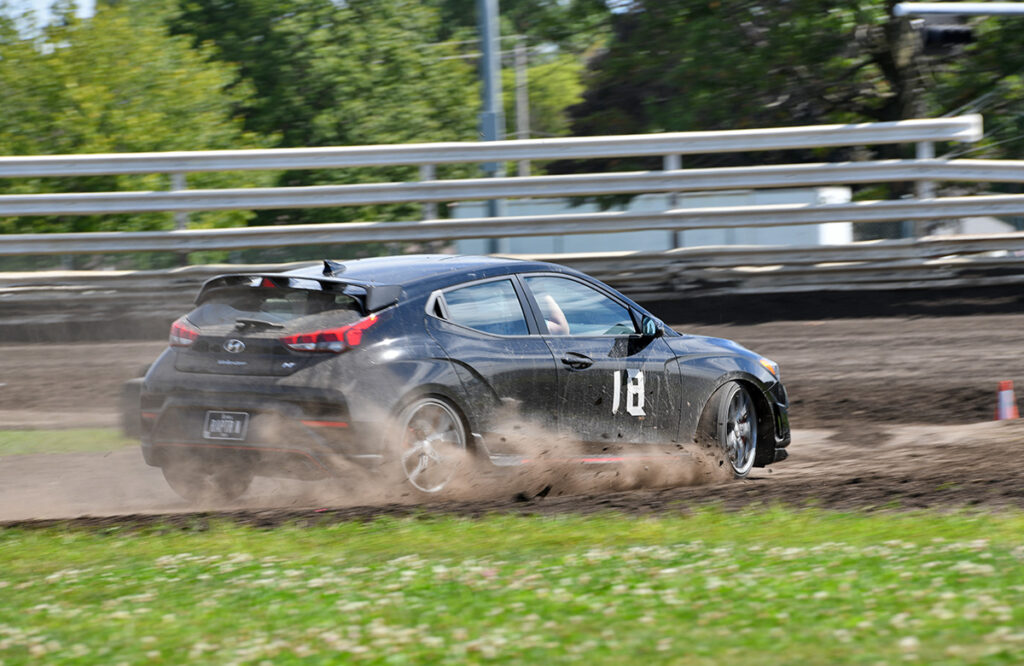 Stock FWD saw Charles P returning in his Civic and a new contender, Brandon G in a 2020 Veloster N. This was a rather unfair fight, with Brandon having 100+ more horsepower and a limited slip differential. Brandon jumped out to an early lead and never looked back. However, Charles did put down several laps with a few seconds of Brandon, before experiencing a mechanical issue that ended his day. Brandon ended up first in class for the day.
Stock AWD was our big class for the day, with nine racers. Class favorite Jay K had only brought tires for dry conditions and faced an uphill battle against other racers with snow tires. Newcomers Aaron D and Collin C, co-driving an 03 Outback Sport took off running with their first runs, proceeding to open up a gap that Jay couldn't overcome. Aaron ended up first in SA and third overall, Collin was second, and Jay brought up third, despite laying down the fastest individual lap of all classes in that heat. We also had two father/son duos co-driving Subarus in SA, having a great time competing against each other.
Yours truly was competing by myself in Prepared FWD, so I tried to benchmark my times against Nick L in his MF Civic (more on this car later). I had brought somewhat aggressive tires, so the treacherous conditions didn't hurt me quite as bad as others. I couldn't match Nick's early times, but as the course dried out, I ended up besting his times for a number of laps. I ended up first in PF (not very hard in a class of one) and eighth overall.
Prepared RWD had our oldest vehicle of the day, a 1977 Datsun 280Z piloted by Steve M. Steve showed all of us some lessons on car control, ripping around the slick course in his RWD beast. Steve took first in his class and ended up mid pack overall. If you want to check out the video he put together of his race experience, you can watch it here.
Prepared AWD again demonstrated the importance of aggressive tires when the conditions are difficult. With the advantages of horsepower and aggressive tires, Michael G was able to hold off Kim K to take first in class and fifth overall. Michael did shed more than a few parts on course, so perhaps we should have protested him into Modified AWD? 😀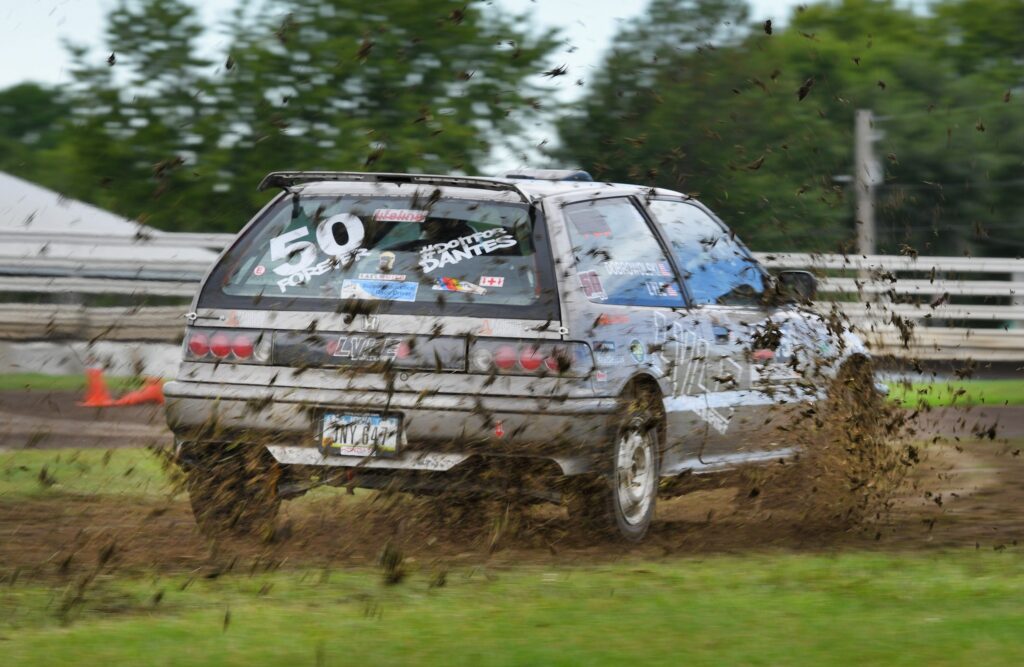 Modified FWD was a class of one with the aforementioned Nick L in his stage rally prepped Honda Civic. Always a fast contender, Nick had dug out his mud tires prior to leaving home, giving him quite a leg up on nearly everyone. His first run in the mud was over 30 seconds faster than the next fastest car in the same heat. Nick's tire advantage dropped off as things dried up, but he still put down exception fast runs with very few cone penalties. This consistency allowed him to take first in class and second overall, besting the times of 17 AWD cars. This is especially impressive with the additional weight of a full roll cage. Nice work Nick!
Our final class for the day, but certain not the last, was Modified AWD. Tire choice again played a significant role. Shane B, racing his unconventional Dodge Stealth RT/TT, brought along highly aggressive tires, allowing him to open up nearly 25 seconds of gap between him and second place while the course was muddy. He then swapped tires for the late afternoon dry conditions, allowing him to take first in class by 33 seconds and first overall by 18. Competition for second was equally lopsided, with Aaron B taking second by 23 seconds. Third place became a competition of who could shoot themselves in the foot the least. Cliff J & Eric L resumed their cone battle from the July event from the first run of the day, picking up cones on every single run but one. Cliff set the bar high early, picking up 5 cones on a single run. Eric struck back the following run, taking out EIGHT. When the broken cone pieces finally settled down, Cliff held on to third by barely over 2 seconds. Eric does hold the honor of the fastest individual lap of the event, on his ONLY clean run of the day.
Several of our newcomers described this event as the most fun racing they've ever participated in. With feedback like this, how come you haven't tried rallycross yet? Your next opportunity will be on Sept 10th at the Independence Speedway. Registration is now open so get signed up so you don't miss out!