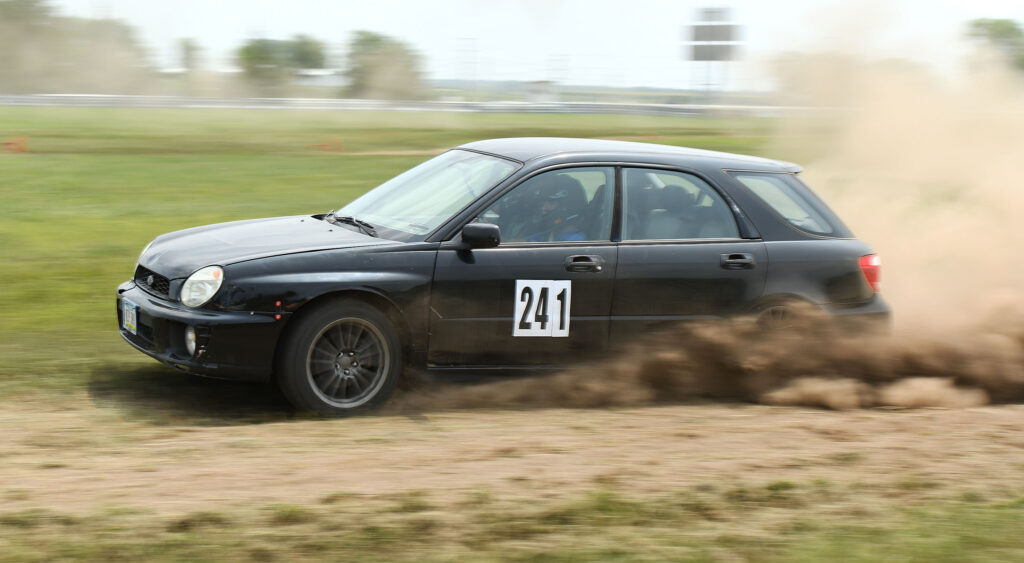 Cones, cones, cones! A rallycross event wouldn't be a rallycross event without lots of cones being slaughtered, and Sunday was no exception. While we only had 11 racers, a total of 69 (haha!) cones were hit, an average of 6.25 cones per racer! Every racer got in 11 runs between our two courses. The heat and dust made for an exhausting day, but everyone had a lot of fun!
After a long hiatus, Charles P returned to rallycross in Stock FWD piloting his 06 Civic to competitive times throughout the day. While taking first in a class of one, he ended up 7th overall. Charles also takes the honor of our only racer who didn't hit a cone the entire day!
Stock RWD was also a class of one, with Ryan W tearing things up in his Infiniti G35. Having added snow tires on all four wheels, Ryan was now able to put down surprising fast times for a RWD car. Starting off a touch slow, he found his stride on our afternoon course and put down times that were quicker than some FWD and AWD cars. There were also some impressive rooster tails of dirt coming off the car! Perhaps it's time to add some mud flaps Ryan?
Stock AWD had three contenders: the always fast Jay K and the father & son duo of Brian and Ian L. Brian and Ian went over to the dark side and replaced their Miata with an 05 Saab 9-2X (a Subaru disguised as a Saab). They had owned the car for barely a week, so it was a trial by fire. Jay decided to show no mercy and began laying down blistering fast times starting with his first run, carrying him through to victory at the end of the day. Jay also managed to hit only one cone for the day! Brian and Ian spent the day learning their new car, with their run times dropping significantly throughout the course of the day. They had huge smiles on their faces, so it appears the AWD switch was a hit!
There was another class of one in Prepared FWD, with David C wrangling his SRT4 around the course (hey, that's me!). With no one in my class, I decided to chase the Mod AWD guys to have a gauge on how fast I was driving. I unfortunately tagged seven cones, but managed to put down times quick enough to beat all but one of the MA cars and end up second overall for the day!
Kim K battled her way through the day in Prepared AWD despite having the AC fail in her car early in the morning. Knowing that she was in a class of one, Kim decided to just have as much fun as possible. With music blaring, and her co-pilot dancing in the passenger seat, Kim put down respectable times all day.
Have you noticed the mention of drivers that had far less cone hits than the 6.25 average? Well, that high average was thanks to the hooligans in Modified AWD. Between the four drivers in MA, there were 40 cones hit— and one of the drivers only had one cone! The cone massacre started with the first run of the day and didn't stop until the end of racing. Cliff J, our reigning Cone Killer, spent the day trying to defend his title. The heat and dust must have gotten to him though, as he only managed to hit seven for the whole day. Eric L seems to be determined to stop Cliff's reign as Cone Killer and really gave the cone murder his all. He was definitely seeing the orange mist as he ended up nailing 18 (!!!) cones for the day. Not wanting to be left out on the fun, Aaron B also steered for the cones and managed to smash 14 of them! Devin P only took out a paltry one cone the entire day. You gotta pump those numbers up Devin!
Oh wait, this is racing so you might actually care about their times? Cliff and Eric ran neck and neck all morning, with Cliff in the lead by only 0.033 seconds after the first course. Cliff opened this lead up as the day progressed and with his cone problem, Eric couldn't make up the gap. Eric did manage a blisteringly fast clean run in the afternoon of 46.374, over a second faster than the next fastest run in MA. Cliff managed to take both first in MA, and first overall, while Eric ended up second in class and third overall.
Our rallycross season continues with events planned for every month through the end of the year. Be sure to check out the schedule to ensure you don't miss out!