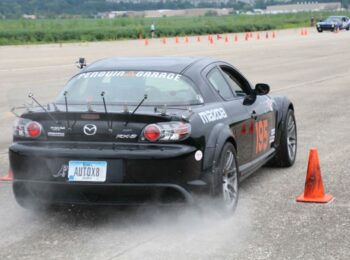 Aaron B.
DSP RX8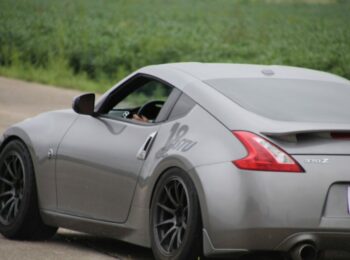 Ramon P.
STU 370Z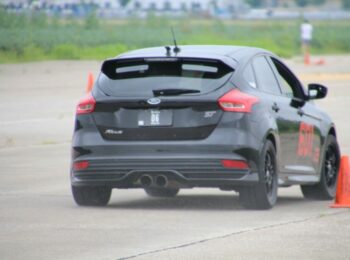 Alex B.
GS Focus ST
Iowa Region SCCA hosted an AutoX on Sunday. 60 drivers came to compete with us at the Iowa City Airport.
Recently Iowa Region repaired large spots on the runway to help improve course design and layout, our patches are holding well and it allowed for a very fun yet technical course. Potentially too technical. There was a lot of cone calls, the airport does require some tight spots to avoid holes and cracks.
Our course designer wanted to include a couple elements that were similar to Nationals style courses, big fast sweepers into a slalom for example. This element proved to be very fun. The turn around is always challenging to design and drive, with the decreasing radius and continued turn it forced people to look ahead and give speed to benefit later.
The finish proved to be challenging to do fast and clean, we should've moved the finish beams a little further away. A few too many close calls, myself included.
Pro Class once again proved to be a heated battle. Top 7 drivers all within 1 second of each other. Top 5 within .6ish. First in Pro Class was Alex B with his Focus ST in GS. Jeremy E and Taylor J rounded out the Top 3 in Pro.
Novice Class had 12 drivers and the top 4 are all very close competition. The growth of the Novice drivers this year has been awesome! They are getting faster and faster each event. We'll have to kick a few of them up to the normal classes in 2023!
Top Pax and FTD went to Jeremy E in the Sprinto RC 1.4T. 33.152 Raw and 29.770 PAX.
Check the results here! Results
Solo Nationals is coming up, it's a wild week long of autox and Iowa Region has a strong group going. We'll be sure to update the website and the Facebook pages with details from Solo Nationals!
We have another event coming up Sept 18th at Hawkeye Tech, be sure to join!
-Drew RE Iowa Region SCCA