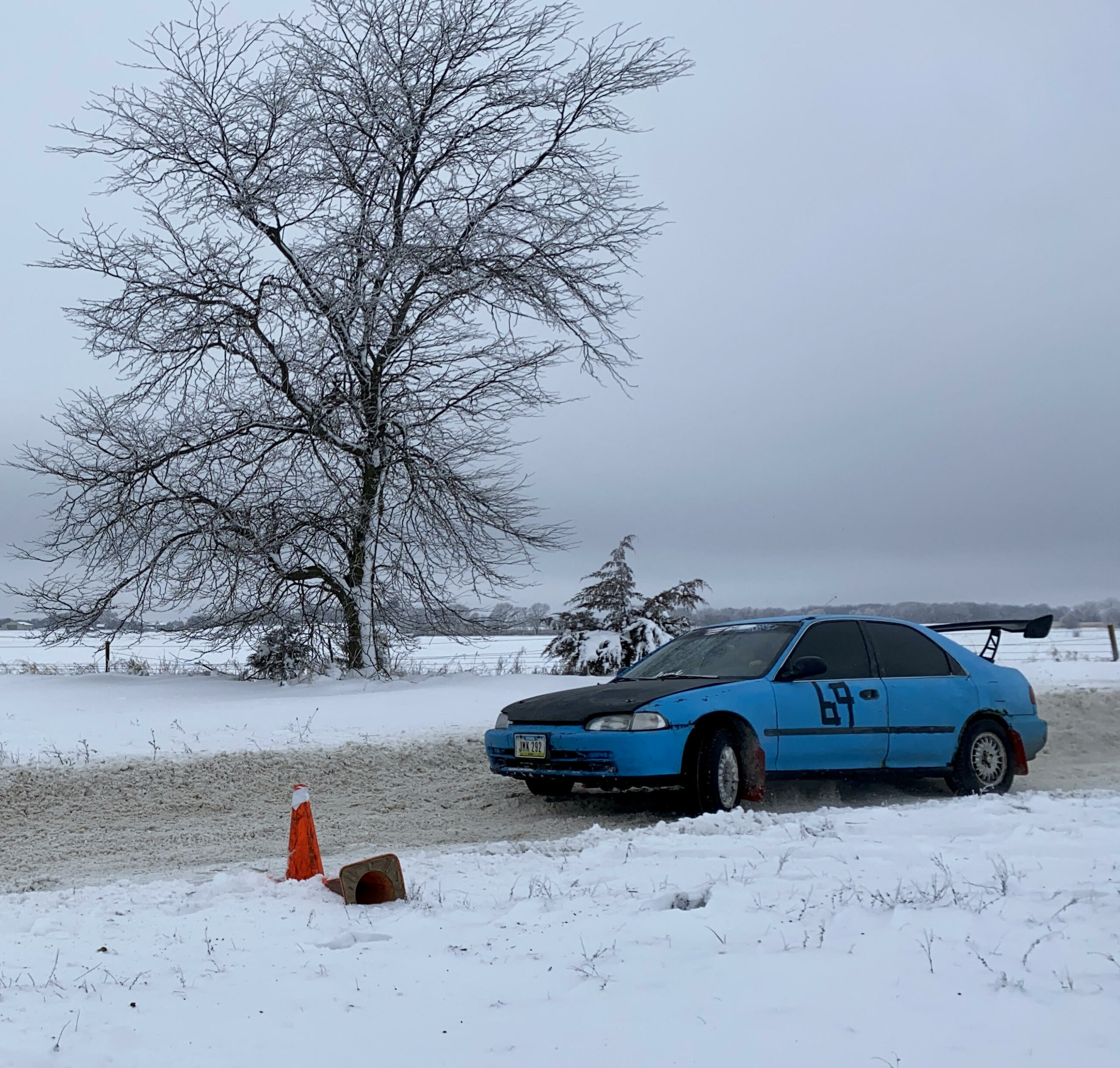 On Sunday, Cedar Falls Raceway was home to the Iowa Region 2023 RallyCross season opener. 23 racers came from all over Iowa and surrounding states to test their skills and cars on our two courses, both of which had 4+ inches of snow sitting atop a hidden layer of ice.
Tire selection and driver skill was the theme of the day, as no matter how much power or skill you had, the wrong tires were going to humble you. Your author made the wrong tire choice and was rewarded with 15 cones, essentially equal my entire 2022 season total of cones.
Nobody showcased this theme better than Keith B and Rich C. They had made the right tire choice for Keith's powerhouse 1998 Dodge Neon automatic. Skillful driving on the morning runs had Rich in first by what looked like a comfortable margin of over 5 seconds. Not to go down without a fight, Keith picked up the pace in the afternoon and clawed his way into first by only 0.112, taking both first in Prepared FWD and overall fastest time of the day. Rich hung onto the 2nd place spot in PFWD, and also posted the second fastest overall time of the day.
The third fastest time of the day went to Eric L, who was only 2.23 seconds behind Keith. Eric's time was enough to have him take first place in Modified AWD, with the class newcomer Charles P taking second. Charles remained consistent, and didn't hit any cones on either course!
In Prepared AWD, Jamison W showed what his Audi A4 was capable of, and drifted himself into a sizeable lead and eventual victory while only collecting 2 cones.
Stock AWD was the battle of the VA chassis Subaru WRX. Brent L was the class victor in his 2021 WRX, but Dave M was hot on his heels in his 2018 WRX, missing out on first by only 0.663 seconds!
Stock FWD was a family battle, as Victoria W pushed her VW Passat to victory, against her spouse Andrew in his Chevy Cobalt SS.
Rounding out the day was our bravest class, Stock RWD. With course conditions and low ride heights, these competitors struggled to even get to the starting line. However, they managed to power through the courses, with each only needing one recovery. Chase D was able to drive his Lexus IS300 to the top spot, with Ryan W and his Infinity G35 taking second.
Full results are live at this link. Thank you to everyone who came out to race, volunteer, and spectate! It was a great way to kick off the season! We'll be racing again in the snow on February 12th in Vinton, IA!
– Jay