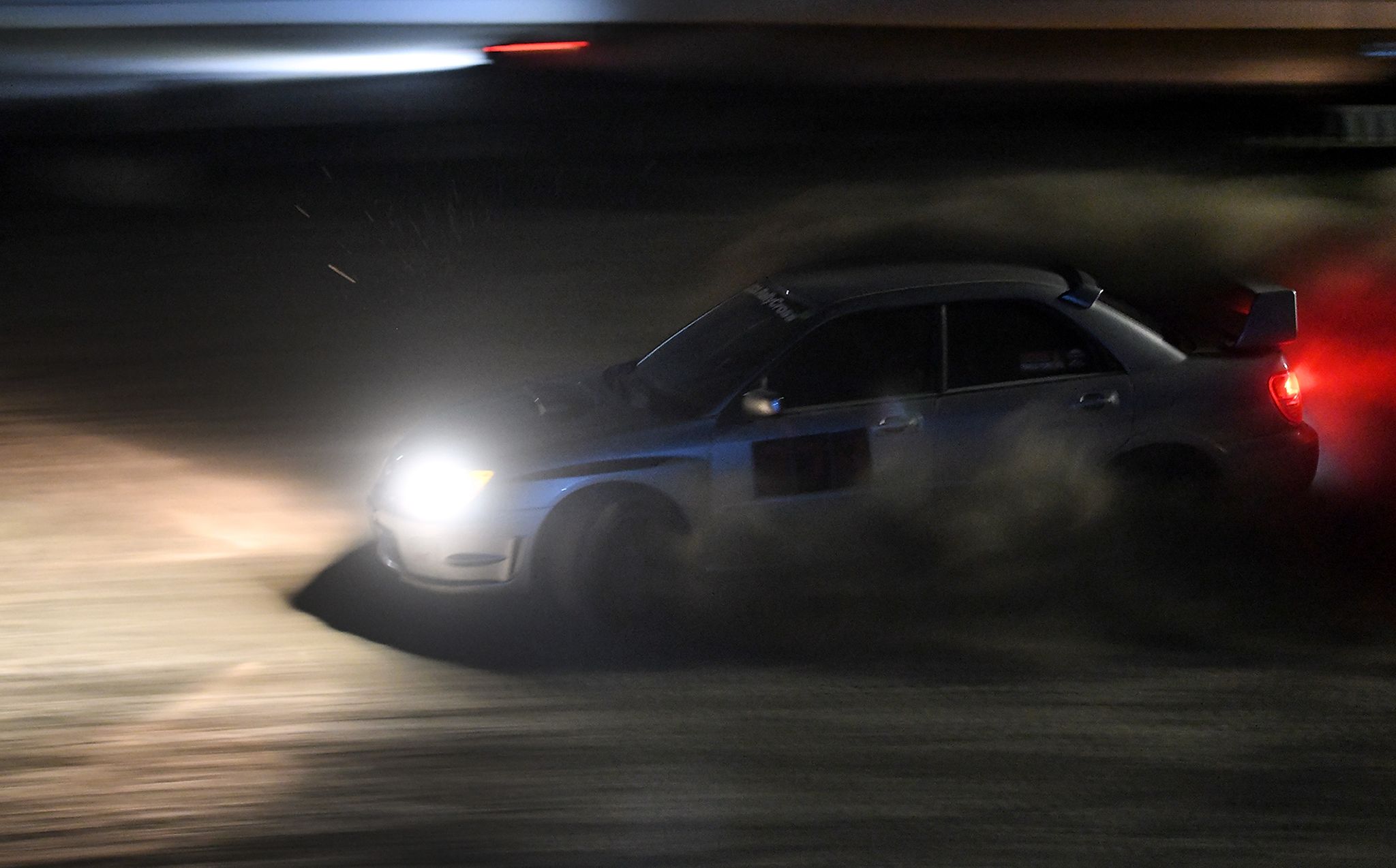 65+ minutes of seat time: that's what the racers at this weekend's multi-day rallycross got! Our annual two day rallycross went off without a hitch, with 20 racers braving the cold early morning temps to battle it out. The event drew racers from three states, including four racers from Minnesota.
Saturday's day course featured a mixture of high speed offsets on the oval combined with technical elements in the infield, resulting in run times around 110 seconds. The course was rather slippery in the morning, thanks to the heavy overnight frost. This event was a case of perseverance for many racers, as seven experienced mechanical issues that had to be overcome to continue their battles on course. Two front wheel drive cars took the top two podium spots: David C. in his 2004 Dodge SRT4 and Andy W. in his 1999 Honda Civic. The final podium was taken by Eric L. in his 2005 Subaru WRX.
Next up was the night racing portion of the event. A portion of the same course was used, having been shortened for better corner worker coverage in the dark. Despite a full moon, it was still very dark and LED light bars were critical for visibility. There was a close battle that took place in Modified all wheel drive, with Eric L. and Jay K. battling it out, both racing 2005 Subaru WRX's. Overcoming a cone penalty, Jay ended up taking the win by over 8 seconds over Eric thanks to some very quick final runs. Overall standings ended up with Jay on top of the podium, followed by David C. who ended up less than two seconds in front of Eric in third.
Sunday's course was Saturday's course, but in reverse, with a few tweaks, resulting in run times that were rough 110 seconds. Things ran extremely smoothly, so the racers got in 20 runs! In case anyone is wondering, this is the limit of our timing software. 😀 Jay and Eric resumed their battle right from the first run, trading the lead back and forth a few times. For the afternoon runs, Eric made the bold choice of switching to 200TW summer tires. This gamble paid off, with his times immediately dropping by 4 seconds. Sadly, Jay's car started misbehaving so Eric walked away with a very decisive win in class and overall. The two remaining overall podium spots were again taken by the front wheel drive hot shoes, David C. and Andy W. Another amusing story of the day was both Juan S. and Ramon P. mercilessly flogging Juan's 2003 Mitsubishi Lancer. The poor car survived 40 back-to-back runs by this duo. When the dust settled, Juan took the win over Ramon by a mere 4 seconds, and then drove the car home.
Make your plans now to join us for our next event, the Freeze Your Curds Off Challenge, on Nov 5th & 6th near Darlington, WI. This will be a battle amongst the three active rallycross programs in the Central Division SCCA: Iowa, Land-O-Lakes, & Milwaukee Region. We'll be racing on a bit less than 40 acres, so courses may exceed three minutes per run! More info can be found here or you can register here.