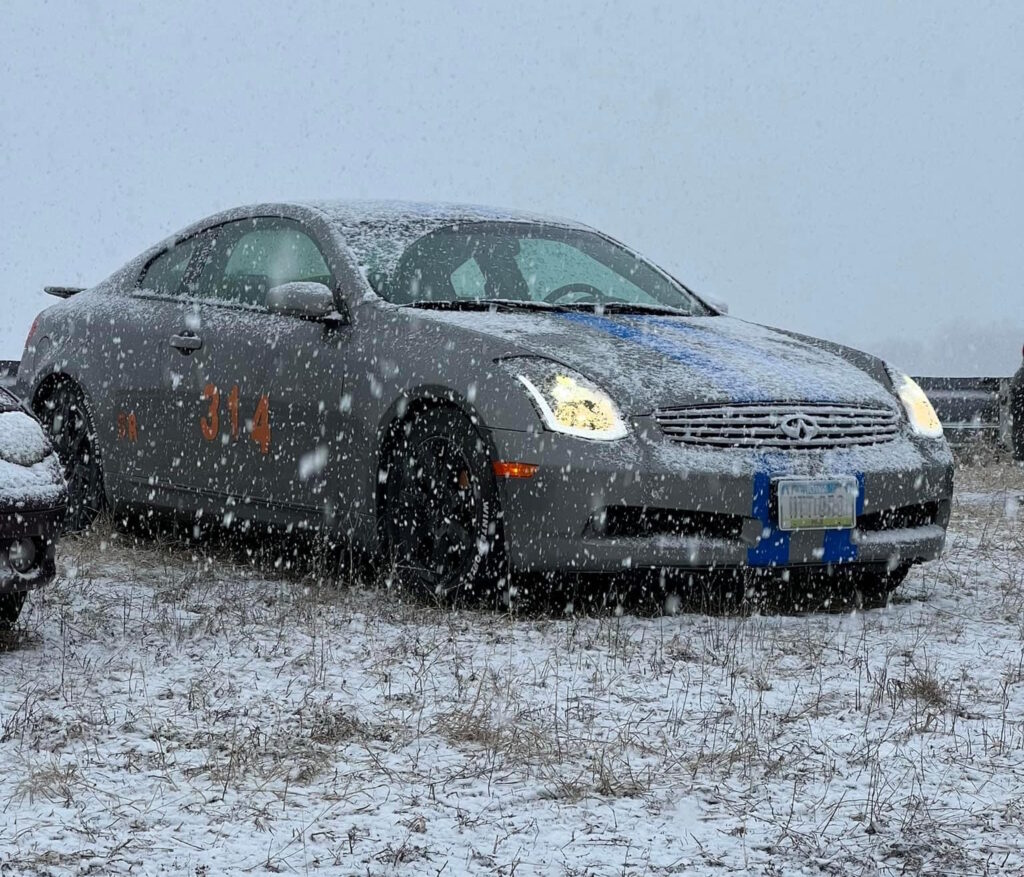 Surprise was the theme of the day at yesterday's rallycross! The biggest surprise was Mother Nature deciding to dump nearly 6" of snow on us during the event! The snow started coming down during the drivers' meeting and never let up until we were packing up at the end of the day. All this unexpected snow led to very tough driving conditions for the 29 drivers from five different states.
Stock FWD was dominated by a Fiesta ST co-driven by Neil C and Brady S, both hailing from MN. Brady jumped off to an early lead, but then Neil hit his stride and pulled away by a large margin. Brady closed the gap with some valiant final runs, but could not overtake Neil. Third place was taken by Alex P in his PT Bruiser, err Cruiser, an impressive showing on all season tires in the snow.
Stock RWD was a rematch from our January rallycross, with both Ryan W and Chase D returning to face off. Ryan jumped off to an early lead in his G35 and never looked back, taking the win by a significant margin over Chase and his IS300. The battle between these two will on to watch through the season, as they have now each taken a win.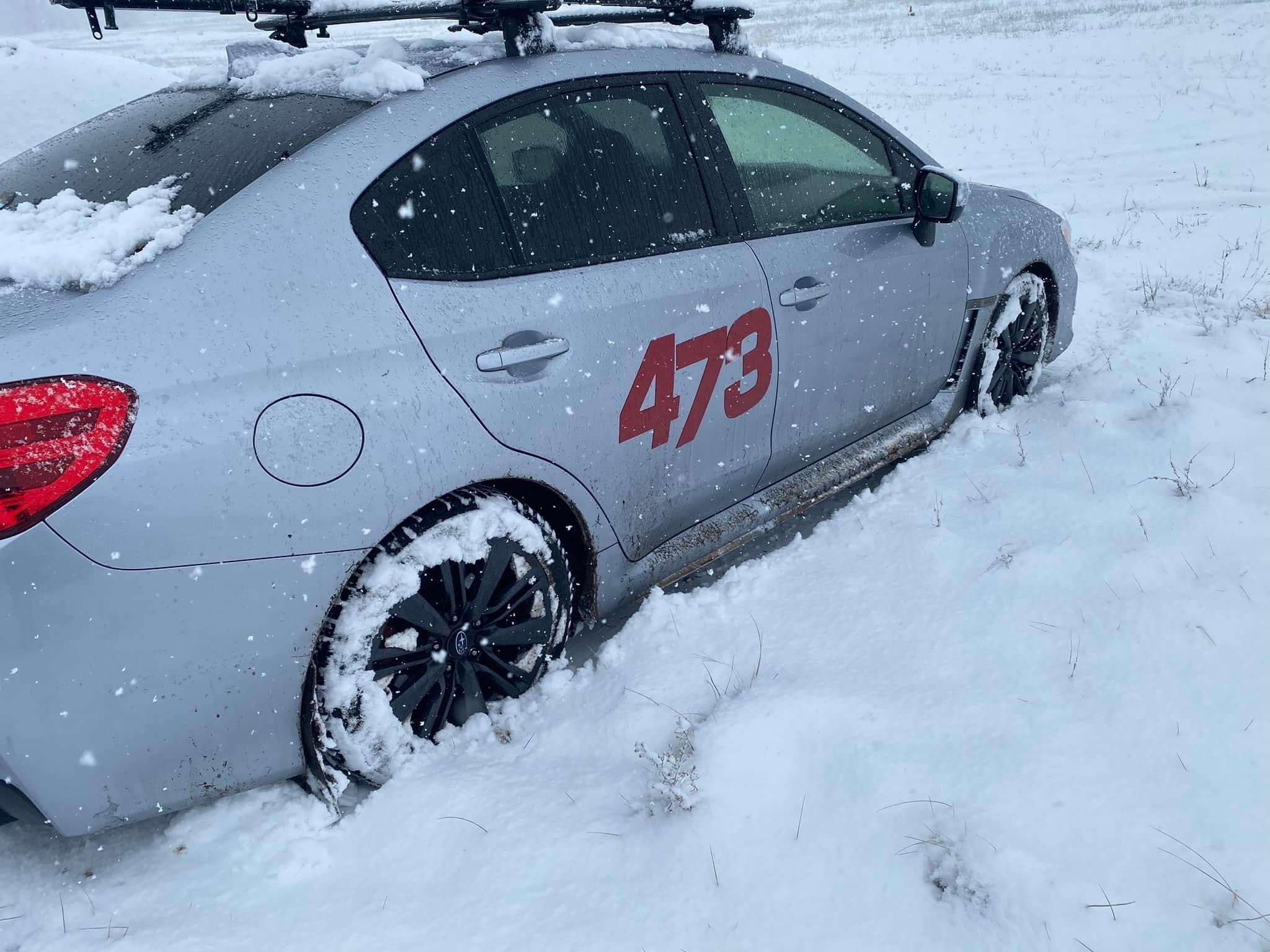 As usual, Stock AWD was a clash of the Subarus. After the first two runs, it seemed like it was going to be a battle between Jay K (06 Outback Sport) and Hugh H (96 SVX). Sadly, Hugh broke an axle on the third run, putting him in the paddock for the rest of the event. Dave M stepped into second with a flurry of quick runs, but Jay was able to hold him off, taking first in class and sixth overall.
Prepared FWD was a class of one, with the purple Neon of Keith B ripping off very quick runs all day. Keith took 7th overall, one of two two-wheel drive cars making it into the top ten.
Jamison W set out to prove that you don't have to have a Subaru to win one of the AWD classes. His Prepared AWD 2001 Audi A4 sounded mean as he piloted it through the mud and snow mess on course. Jamison took first in class and fifth overall, followed closely by Kim K in her 06 Subaru Outback. Kim took 9th overall, her best finish this year to date!
Modified FWD saw the return of Andy W with his blazing fast Civic, Rich C with a new engine in his CRX, and Nate Smith, a new contender from Indiana. Andy stunned us all with his morning course runs being significantly faster than everyone else, putting him in first in class and overall at the lunch break. A couple of cones in the afternoon knocked him down to second overall, but he still took first in class. Rich followed him up in second and Nate in third.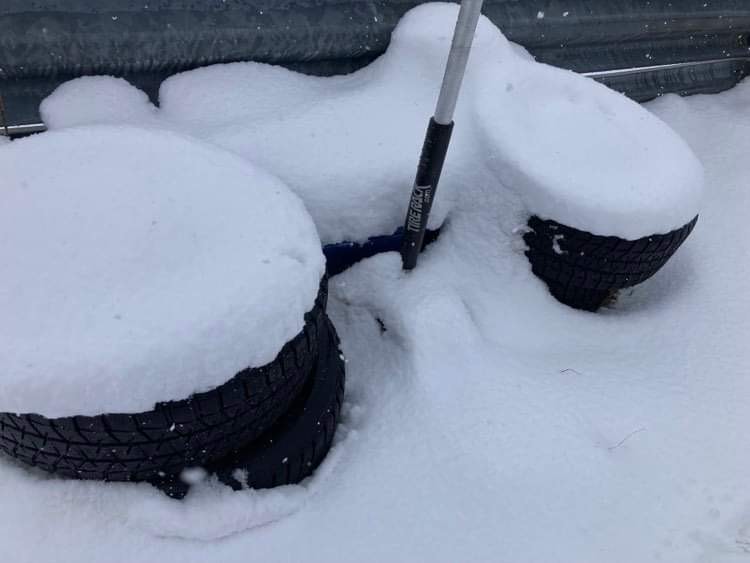 Modified AWD yielded our other big surprise of the day. A new challenger, Chris G, entered a 2001 Yukon as his race vehicle. Typically, these large SUV's are not allowed, but Chris had added spacers and higher offset wheels to meet our height to width requirements. With his first engine roaring run, Chris demonstrated he was definitely in the fight for first. Eric L (05 WRX) and Chris traded the lead back and forth for the first three runs until Eric got himself in cone trouble. Both drivers kept pushing harder and their times continued to drop. When the flying mud had finally settled, Chris had taken first in class and first overall. He attributes his win to his experience competing with the Western Iowa Mud Racing Association.
Full results for the day can be seen on our results page.
We'll be racing at Cedar Falls Motorsports park again on April 16th. Make your plans now to come join in on the fun!