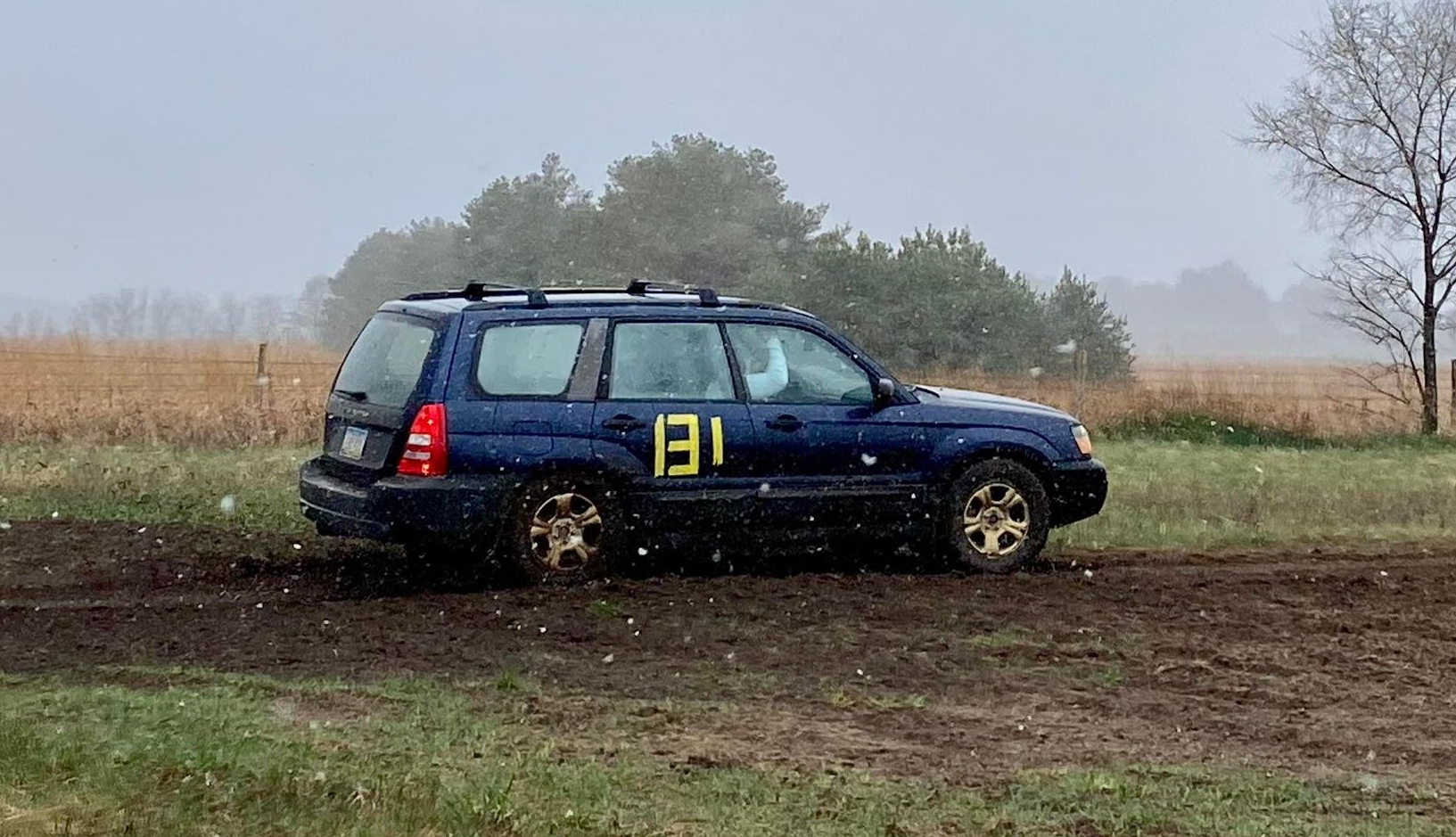 Another rallycross, another snow storm! Despite being April 16th, our racers got to contend with snow once again. While it didn't accumulate on the ground, it was falling rapidly enough to make for slick conditions and impede vision. The 40+ mph wind gusts certainly didn't help either and it was more than a bit miserable to be working the course. Even with the weather, everyone had a blast!
Attendance was on the lighter side, so everyone got more runs! We did 12 runs total, averaging well more than 10 minutes of seat time per racer and were still packed up and on our ways home by 2 pm.
Stock AWD saw the return of our regulars Jay K and Dave M, with the addition of a new racer, David L. After four runs on the morning course, Jay K had a commanding 32 second lead. However, disaster struck as he was crossing the finish line, with the steering rack on his wife's '06 Subaru Outback Sport failing in spectacular fashion. Jay had to retire for the day, leaving the door wide open for someone else to take first place. After the morning course, Dave M was in front by less than two seconds. When racing resumed on the afternoon course, David L laid down a pair of blazing fast runs, putting himself in the lead by nine seconds. Dave M struck back with his own fast runs and brought the gap down to about two seconds. David L responded to this pressure with more fast runs, pushing the gap larger. Dave M finished out the day with two great runs, but it wasn't enough to take the lead back from David L. Way to go David, winning your class on your first ever rallycross!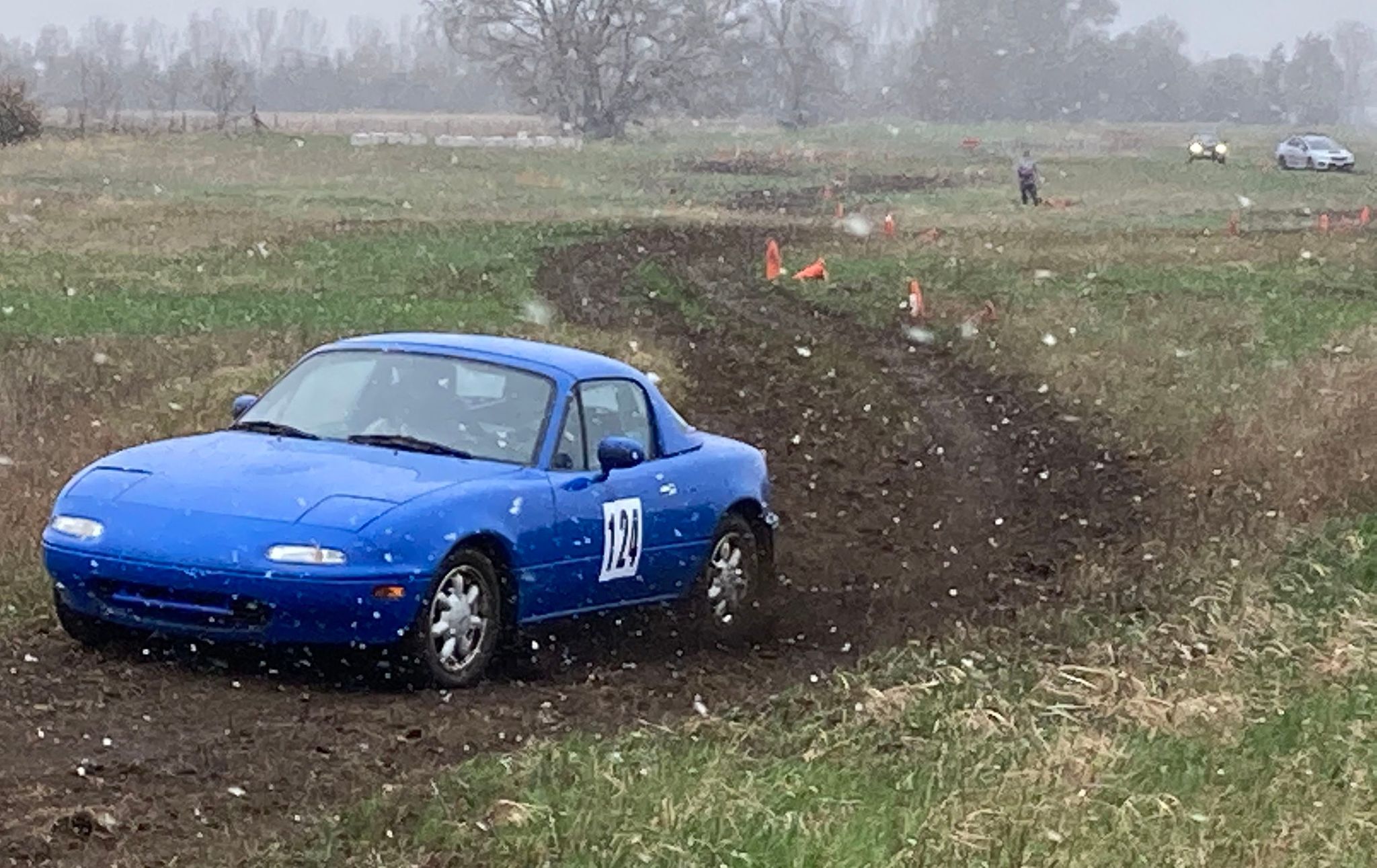 Prepared RWD saw two new entries, a father (Brian L) and son (Ian L) duo racing a beautiful blue '91 Miata. At the lunch break, Ian was in the lead, despite having a few cones. Ian couldn't pass up on the opportunity to give his dad a hard time about being in the lead. Brian couldn't let this go unpunished and showed no mercy on the afternoon course, putting himself in the lead by over 14 seconds after ten runs. Brian ended up overcooking a turn on his 11th run, picking up two cones and a painful ten second missed gate penalty. This pile of penalties put Ian back in the lead, bringing the winner decision down to the final run of the day. Ian pushed a little bit too hard and picked up four seconds of cone penalties, allowing Brian to take home the win. From some overheard comments about how much fun they had, I think it's a guarantee we'll be seeing these two again!
Prepared AWD was a class of one today, with Kim K rocking her '06 Subaru Outback Sport. Kim started off the day with four very quick runs, putting her in the top five after the first course. Sadly, her husband broke the car as previously mentioned, so Kim also had to retire for the day. Hopefully Jay will get her car back together for her soon so she can get back in the competition at our May event!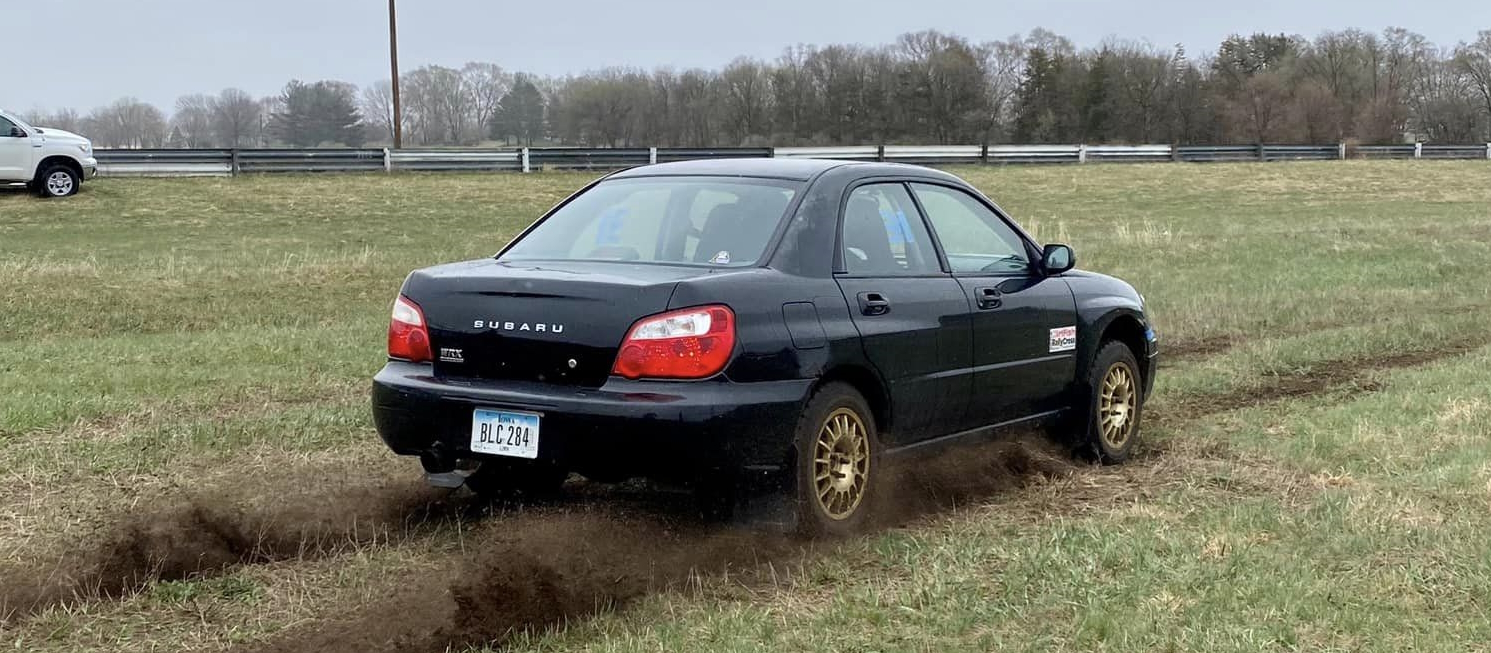 Modified AWD was our biggest class of the day and the competition was quite fierce! Eric L jumped out to an early lead over the field. However, on his fourth run, he had a hiccup on course and had to momentarily stop, leading to a run that was over ten seconds slower than his previous times. This opened the door for Aaron B and Cliff J to try to take a trophy spot. On the afternoon course, the racers pulled out all the stops in their quest for first. Aaron laid down repeated blisteringly fast runs, putting him into first a few more runs. Eric turned up the heat and was hot on Aaron's heels. Aaron proceeded to shoot himself in the foot, picking up 12 seconds of cone penalties in his last four runs, handing the win to Eric by only 0.93 seconds. Cliff, our reigning three Cone Killer champion, got concerned that Aaron might be trying to take his title and began slaughtering the cones on course. Cliff picked up ten cones on his afternoon run to ensure that he is still in the running for Cone Killer 2023!
Once again, if you didn't race with us today, you missed out on a lot of fun! We'll be racing again on May 7th at the Southern Iowa Speedway in Oskaloosa, IA. This large half mile dirt track plus infield allows for huge, fun courses. You won't want to miss it! Make your plans to join us today!